Here is where you can read about some of the cycling trips that MCC members have gone on, just to increase the stoke!
Cornwall – Gloucester, MA tour – Day 5, July 30, 2015
Thomas Wood
150km from Waterboro, ME to Gloucester, MA
My AirBnb hosts took me to the local sports bar "Woody's" (go figure) for dinner. Michelle and her husband (whose name is alluding me) were both community college teachers, and very easy to chat with. We had a great dinner, including a pint of "Gneiss Weiss" which was brewed in Limerick, a small town I rode through and had no idea was home to a microbrewery! After that they took me for ice cream at the local spot, which was also great! We spent the rest of the evening chatting in their kitchen, before turning in for bed. Once again, I had lucked out with amazing hosts, and more people whom it was slightly disappointing to say farewell to.
Today's ride was the longest of the tour, but also had the most forgiving profile, so I wasn't too worried about it. The ride to the coast was frankly boring compared to the past few days, and there was a strong headwind, so I found myself dawdling for the first few hours.
I got my first glimpse of seawater in Kittery Maine, before crossing the bridge into Portsmouth. This is supposedly a pretty neat seaside city, but it was jampacked and I was in no mood to jostle with tourists, so I skipped the fish restaurant, the seaside park, and the submarine museum and kept on my way.
I finally saw the proper ocean after another 20 minutes of riding. I had never seen the Atlantic before, and this excited me more than I expected – symbolic of getting close to the end of my journey, even if I had 70k left to ride. I clambered over the seawall to do the obligitory "toe in the ocean" but as I was taking the picture, a big wave came, and instead I got the "knees into the ocean" treatment.
With shoes full of seawater, I pulled into the first authentic looking seafood restaurant I could find (which I'm sure locals would tell you is tacky and overpriced) – and had a tasty lobster pot pie while overlooking the ocean. I was pretty excited to spend the next 3 days gorging myself on local seafood!
After lunch, I began the long ride along the beaches of New Hampshire to get toward my destination. I have never seen such busy beaches! The last weekend in July, plus another day of searing heat meant it was packed – but it was neat to just join the beachside traffic and people-watch.
When I hit the Mass border, I stopped and drank a giant iced tea in a lawn chair outside of a gas station. This is important for no reason except that it was tasty, and I felt like a stereotype, sitting drinking iced tea watching people go by.
After a bit of a busier stretch after the mass border, I found myself on a rail trail for about 5km. While at home I find these tedious and boring, it was nice to get away from traffic, and also have some shelter from the sun and (still persistent) head wind.
I made the turn onto rte 1A then rte 133, and I was truly on the home stretch. This was one of the busier sections of road I faced on the entire trip, busy with tourists and weekend cottage traffic. Between that, turning East to finally enjoy a cross/tailwind, and knowing I was only 30km from my destination, I found my pace steadily rising, until my last 90 minutes was averaging north of 30km/h. Traffic aside, these were great roads, with gentle undulating hills and sweeping corners – just begging to be ridden faster and faster.
I was riding partly following the map, and partly on instinct, I made my way through the last few towns, and finally through Gloucester, as the smell of the sea (and fish) filled my nose, until I spotted the sign for Atlantic Rd and made the hard right. I got out of the saddle and sprinted the last climb, and pushed hard until I saw the Harries' Flex parked in a driveway – which I found out at the last moment was gravel! 640km and I nearly bailed in the last 10 feet! But, disaster averted, brought it to a stop. Obligatory picture with the ocean in the background, and ride completed!
Shower, food, clean clothes for the first time in a week, and a front deck overlooking the ocean. Perfection!
In summary (how to summarize) this trip was amazing! Great people, great roads, and a different flavour every day. I hope you've enjoyed reading about it, and already thinking about the next one!
Cornwall – Gloucester, MA tour – Day 4, July 30, 2015
Thomas Wood
135km from North Woodstock, NH to Waterboro, ME
After dinner, happened to bump into Serena (the hostel owner) in town, who gave me a lift back to the hostel. Spent the rest of the evening chatting with the other guests, who were primarily through-hikers of the Appalachian trail. Roughly 2200 miles of hiking in 90-100 days, these guys were seriously hardcore – my little bike tour seemed like baby stuff to them. Some interesting stories, and fun conversations about nothing in particular, you could tell these folks look at life on a bit different plane. Also met 4 people from various parts of the US who were in an acting troupe, staying at the Hostel, and travelling daily to different parts of New Hampshire performing a play. Finally, Serena's husband Justin arrived, along with Serena's brother and friends came from DC, who were into camping, biking, and general outdoor fun times. This hostel was less like paid accommodation, and more like hanging out wiht friends at somebody's house – super cool! It was actually a bit tough to say goodbye to these folks, seeming like they could be great friends, but not likely to meet up with them again.
The next morning, and it was time to attack "the Kanc" – a USA Scenic Byway, and the biggest climb of my trip – clearing just over 2800ft and 21km of climbing. The ride started with a few more km of descending, and after two big climbs yesterday, I was feeling much more confident about the mountains, and about climbing them with the panniers on.
The climb started out gently, and gradually ramped up, until it hit 6-7% at the peak. I started out easy, but found myself picking up the intensity as the climb carried on, and I realized I was chewing up the miles quickly. The road was dead quiet on the way up, and got a few words of encouragement/thumbs up from hikers, motorcyclists, and a driver during the climb. After a quick photo stop at "the hairpin" I really put an effort in to get a feel for the climb, and summitted feeling good, after climbing for about an hour – a good 20 minutes faster than I had budgeted for.
After a few quick pics at the summit, I carried down the other side. Between the views, the curves, the lack of traffic, and the 4 miles at 7%, I spent the next 10 minutes or so going "wheeeee!" while coasting at ~60km/h. Awesome!
Google maps had promised me 30km of descending, but it was only at 1-2%, and there was a bit of headwind, so I had to work on most of the descent. I hit a zone of construction where they were laying fresh pavement. The cool thing was that for the second time on this trip, the flagman held up traffic and let me through so that I could get through the zone safely. The bad thing was that the pavement was *really* fresh, to the point that my tires picked up some tar from the asphalt, and a thick coating of stones. After 5km of pushing my new high rolling resistance tires, I realized that it wasn't wearing off. I pulled to the side and spent 20 minutes scrubbing my tires with a rag/picking off bits of tar with my thumbnail. Great.
Once I hit the flats in Conway, I realized it was hot – really hot. This was forecasted to be the hottest day of the trip, and it was living up to its billing, sitting around +34 by 11am. I still had 70km to ride, and really wasn't enjoying the heat. However, for the second day in a row, I found a place to swim, this time in Crystal Lake. Once I was splashing around, it got better, as I found a rope swing! Definitely had to have a turn on that.
My stomach wasn't feeling great today, so my lunch consisted of some plums, some chips, and some donuts. Hardly the breakfast of champions, but calorie-dense and tasty enough to get down.
I continued to bury the miles, stopping to take a rest/shade break every 10km or so the rest of the ride. Crossing state lines into Maine was interesting simply because the pavement was a distinctly different colour – making the crossing very obvious! I was certainly feeling my efforts in the mountains from earlier in the day, and I was quickly learning that while this part of Maine may not have long or high climbs, they routinely hit 10-12% – punishing after a long day in the saddle!
I got caught in the only downpour of the ride about 5km from my destination – a welcome relief from the heat. Once arriving at the address of the AirBnb, I discovered that their driveway was a steep, 500m climb, just what I needed. I had certainly buried myself today – but upon reaching my destination, I was happy – it was another great day on the bike, and a good kind of tired.
photos aren't uploading properly on this computer – will try to post tomorrow
Cornwall – Gloucester, MA tour – Day 3, July 29, 2015
Thomas Wood
110km from Barre, VT to North Woodstock, NH.
Today was probably the best day I've ever enjoyed on a bicycle.
Heading north from Barre, I left the Winooski behind, and Vermont showed its true lumpy self once again. Seriously, there isn't any flat ground anywhere here. I turned onto the #212 to head through Grotton state park. There was a pretty good climb, maybe like doing 2 repeats of Vasey road hill, followed by 20-25km of descending. I could get used to that!
This region is full of boulders – not sure if they are considered glacial erratics in this part of the world, but that's what they looked like to me. One rock in particular, Turtle Head Rock, had an official-looking sign marking it. I'm not sure why this rock is special, as there were many other, bigger and/or more interesting rocks along the way, but either way, here it is in this post.
After getting through the park, I spotted a small bridge crossing a fast-moving stream. I needed a snack, so decided to stop and refuel while sitting on the rocks under the bridge like some sort of sun-hiding troll. Well worth it, as I found some bonus raspberries.
Just before entering New Hampshire, I stopped at "TJs lunch bar." I sat down next to an older couple who immediately started chatting to me. John and Sinda (Cynda, Cinda?) have been married for 61 years, John is a retired lumberjack, and his great grandson is a county soccer champion. They asked plenty about my trip, and as an ultimate nice thing to do, paid for my lunch – as John said "anyone with the ambition to ride that far, deserves to get something" – thanks John!
Shortly after lunch, the pavement finally heated up, and while the views were amazing, the sun was blazing. The road I was on turned to dirt, so I hung a left. That got better, as I found a covered bridge. That got better still when I heard fast-flowing water and voices – a local swimming spot amongst the rapids – too good to pass up, so I decided it was worth riding in a wet chamois and jumped in. Bliss.
After the swim, all that was left was to climb the first notch in White Mountains National Park. compared to Vermont, these are some serious hills. I'm sure these photos won't do it justice, but I would recommend it to anyone to do a trip down here. Those who want to know the stats on this climb can head over to Strava, but it was big, and the descent on the other side was fast!
I didn't need another pedal stroke all the way to the Notch Hostel. It is a renovated farm house owned by Justin and Serena, who seem like super cool people. Another recommendation here. Serena gave me a ride into town where I stopped into the Woodstock Inn (much like the Heuther in Kitchener) for a pint and dinner. I was sitting next to a couple and got chatting (becoming much better at that) from Nashville. Funny, as she worked for Cardinal health (whom JHS purchases some things from) and he was an Engineer, who liked beer, sports (including the predators) and talking about the annoyances of the imperial measurement system – what a great chat!
Tomorrow is the Kanc pass through the heart of the White Mountains, then into Maine. I can't believe there are only 2 days left on the tour!
Cornwall – Gloucester, MA tour – Day 2, July 28, 2015
Thomas Wood
90km from Burlington to Barre, Vermont, mostly following Rte. 2.
The day started by leaving Burlington, and a quick spin to check out the UofVT campus..which, like everything else in Burlington, was really nice.
Despite my earlier stress about the hills of Vermont, Rte 2 followed the Winooski River for most of the journey. The engineers in this area have made full use of this valley, as it contained the state route, the interstate, a railroad, and some other smaller roads into and out of the various small communities.
The riding itself was fairly boring, but that was ok as this was meant to be a transition day after the long miles yesterday, and before the proper climbing began. One highlight along the route was seeing a Ferrari club (or something), as about 20 Ferraris came past me in full song.
The true highlight of the day was stopping at the Ben & Jerry's factory for a tour, and a proper hot-day lunch of ice cream (and a hot dog). Pictures of the tour were not allowed, in case we were ice cream spies, but it can be summarized by saying there is a lot of milk, sugar, stainless steel, and hair nets. I met two men who were cyclists from California, and we chatted about routes, and the usual bike tour type small talk.
Once in Barre (pronounced Barrie, confusing), I resisted stopping at the Candy Country distribution centre to carry on to the hotel, which was very nice, especially the pool (key for the +30 temperatures that have become the norm this week.) If you find yourself in Barre, check out the Hollow Inn and Motel.
There were two ladies riding through the area on Harleys, and I bumped into them everywhere – in the lobby, at the pool, at the pizza place in town, at breakfast. They kept commenting on how a motor would make my life easier, but I suspect they probably wished their bikes were quieter and greener, like mine (literally, and environmentally).
Tomorrow, its time to stop hiding in the valleys, and get into the mountains!
Cornwall – Gloucester, MA tour – Day 1, July 27, 2015
Thomas Wood
Today was the first real riding day of the tour – 130km to Burlington, Vt. The forecast is for +30C all week, so had to get on the road in good time!
The roads were again fantastic, and got hillier and hillier as the hours rolled on. At the top of the biggest climb of the day, I was cursing the currently terribly unnecessary toque, rainshell, arm and leg warmers, and sweater in my panniers! However, at the top of the largest climb, a fortuitous spring-fed tap appeared.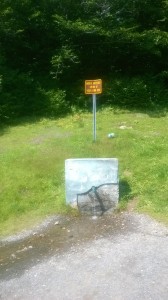 I soaked my head in the icy cold water, and i drank at my own risk – I was delightful!
The next 35k were more or less downhill into Plattsburg, that was nice. I found myself singing "take the last train to Plattsburg, ill meet you at the station" – a lesser-known Beatles tune, but it kept the pedals turning. Lunch, and a ferry ride brought me to hero island. Getting off of hero island was much more interesting, as I took a bike/walk only causeway, that was built on a disused steam train route.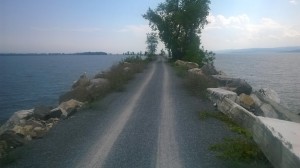 The surface wasn't paved, but it was completely passable on a road bike – the screenings had worn away with 2 good lines. With nothing but lake Champlain on either side, it was pretty surreal!
There is a small gap in the causeway (which used to be spanned by a swing bridge), so a local bike shop/club(?) runs a very neat little "bike ferry." The ride is only about 3 minutes long, but it sure beats swimming!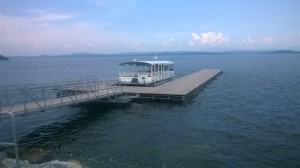 After this, it was another 15k into Burlington, on part of their excellent network of cycling routes. After making it into town, and sitting on the grass for a while, I explored the town docks, and had my picture taken by some young photography students. Given the number of cyclists around, I must have looked extra pensive, or haggard at this point?
Burlington, what can I say? What a city! Loads of fit people cycling and running around, racks full of bikes at grocery stores and businesses (actually using a bike to get around, imagine that!), friendly smiling folks, and a lively, well kept, and beautiful downtown. The waterfront is exactly what Midland could/should be, with a restaurant right on the water, a nice voardwalk, and a park that people actually use to hang out, watch the sunset, or toss a frisbee around. That, and the burrito as big as my head didn't hurt the situation, either.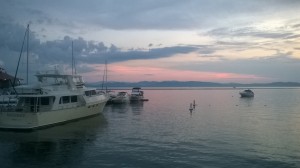 A final note: a good number of shops (including the burrito shop and the grocery store) has "bicyclebenefits" stickers on the door. This is a national program where for 5 bucks you get a pass/sticker of some sort, and if you bike to the store and show the cashier you did, you get a deal of some sort. I can only dream of this in Canada. Say what you like about the USA, but everything ive seen so far, at least in this corner of the country they are vastly ahead of us in supporting cycling through infrastructure and programs!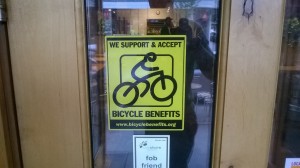 Cornwall – Gloucester, MA tour – Day 0, July 26, 2015
Thomas Wood
The Harries family is having a get together in Gloucester, so it only seemed logical to spend a week cycling there. It is simply too far for me to solo in a week from home, so Gillians parents generously drove me part of the way, before heading into the Adirondack mountains for an adventure of their own.
After several hours on my least favourite highway (the 401) they dropped me off about 20km into new York state from Cornwall. I was left with a short 25k pedal to my first night's stop in Malone.
I quickly determined a few things once on the bike:
1) 25lbs of gear/panniers turns my Porchse-like Xprezo into a Winnebago.
2) climbing with the Winnebago is not my favourite activity.
3) riding brand new roads is neat! Not having any idea what the next corner will bring, where or how big the hills are, lets you just pedal and enjoy yourself.
4) being used to doing short training rides, I was going to have to be disciplined and take my time on this ride. Easier done now that the bike doesn't feel snappy and I have no desire to attack the climbs.
As for the actual roads, it felt very much like riding around home, except with *way* wider shoulders. At one point I was certain I was back on Balm Beach road: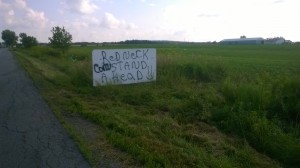 Sir Sam's 4-hr relay – July 25, 2015
MCC took 8 people to the sir sam's 4hr relay. This event was unfortunately on the same weekend as an Epic8 race, so our 4 teams made up roughly 45% of the entire field. That left us no choice but to go to battle, and show the others how we can race!
The tag team of dale wood and Thomas wood placed 2nd overall, with the tag team of Brandon Freund and Noah Mercier only a minute or two behind. The teams of Jeff Mercier and John Shier, and Gillian and Owen Harries came 3rd and 4th, respectively.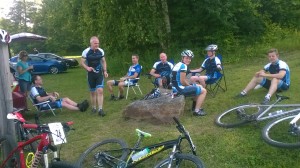 While not from our club, a shout-out to local hero Nick Emsely, a 16year old who raced solo and won overall! We worked to pull back his nearly 4 minute lead, but ran put of time and he finished 15 seconds up!
Despite the small numbers, the event was a blast. The course was fast and furious, and registration included a bbq, and eventually 2 draw prizes each which had a greater value than the entry fee! All in all a good day, and MCC will be sure to return!